Online Auction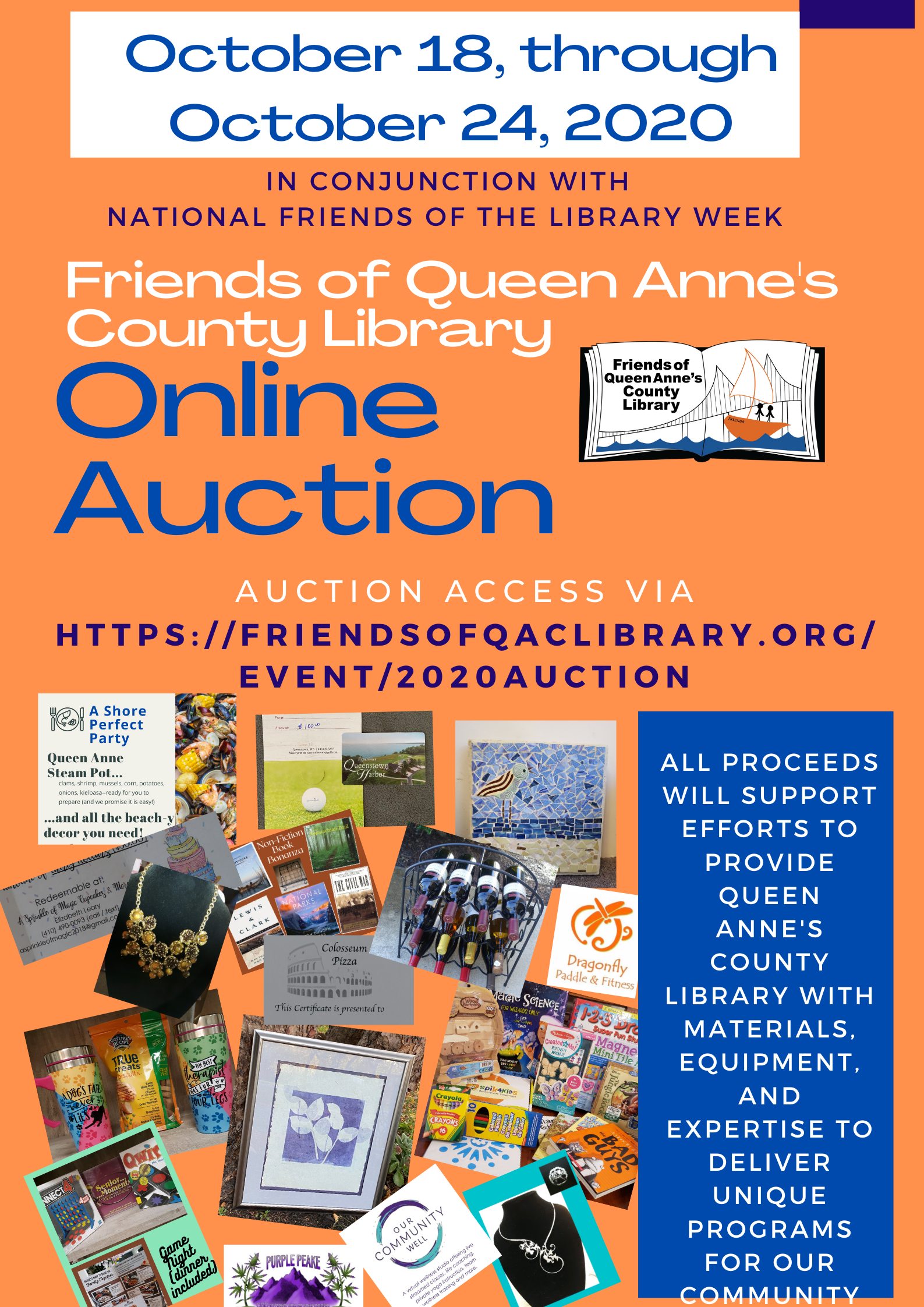 We hope that you'll help celebrate this year's National Friends of the Library Week by
participating in Friends of Queen Anne's County Library's Online Auction! Local businesses and loyal supporters have donated wonderful and unique items which will be available to highest bidders in a week-long auction. Check back here for all the details you'll need to participate in this special event.
All proceeds from the auction will support efforts to provide Queen Anne's County Library with materials, equipment, and expertise to deliver unique programs for our community.
Join the auction at: https://www.32auctions.com/FOL. Users will need to register at the site, but registration is free. A preview of auction items is available now. Bids can be submitted starting Sunday, October 18 at 12noon through Saturday, October 24 at 12noon.
Special thanks to local businesses and artisans and loyal library supporters who donated so generously to make this event happen!
A Sprinkle of Magic Cupcakes & More ~ Bay Shore Steam Pot ~ Bayside Acupuncture ~ Sue Canfield ~ Charly Neill-Roe-Costume Jewelry ~ Colosseum Pizza ~ Cracker Barrel ~ DJ Liquidators ~ Dragonfly Paddle & Fitness ~ Mary Drake ~ Draper's Liquors ~ Drug City Pharmacy ~ Far Eastern Shore Winery ~ Joyce Feldman ~ Pat Fox ~ Frame & Frame, LLC ~ Joselle Gatrell ~ Gifted Crab Shop ~ Haven Ministries ~ Maggie Kovack ~ Sandee Love ~ Lucky Dog Treats ~ Amy Marotta ~ Cathy Olson ~ Our Community Well ~ Carol Porosoff ~ Price & Gannon Ace Hardware & Rental ~ Purple Peake ~ Second Hand Rose Consignment Shop ~ Symphony Village Art Guild ~ Thrifty on 50 ~ Tupperware with Traci Crouse ~ Wye River Designs ~ Yankee Candle Outlet