2023 Reading Challenge
January 1 @ 12:00 am

-

December 31 @ 11:30 pm

You're invited to participate in the Friends of Queen Anne County Library's Reading Challenge for 2023!
Participants in the Reading Challenge will read one book each month that reflects the Challenge's overall "Award-Winning" theme, with each month focused on a different award.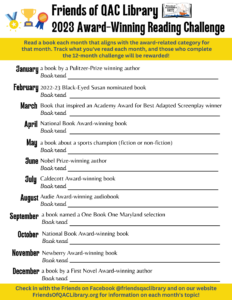 Readers should download and print out the Challenge guide in order to track the books that he/she has read each month. We'll provide resources on the Friends website (https://FriendsOQACLibrary.org/events/2023challenge) and on Facebook (@friendsqaclibrary) each month to help you find options that fulfill the monthly category. And we hope you'll let us know how it's going each month: Readers who stick with it for 12 months and complete the challenge will be rewarded at the end of the year!
The Challenge kicks off in January, and participants are asked to read a book by a Pulitzer-Prize winning author. The book you choose can be fiction or non-fiction, can be recent or an oldie-but-goodie: The only requirement is that the author of the book has won a Pulitzer Prize at some point in their career. (Your January read does not need to be the book for which the author received his/her Pulitzer.) 
Here's a great place to start looking for January options: https://www.pulitzer.org/prize-winners-by-year.  You know you'll be able to find many books by these authors at the Queen Anne's County Library. You may even luck out and find copies of some options for just $1 at the Used Book Nooks run by the Friends of the Library at both the Kent Island and Centreville Libraries!
February:  Each year, the Maryland Association of School Librarians works with its members to select nominees for the Black Eyed Susan Award. Nominees are recognized as "outstanding books that broaden the human experience and provide students with new insights into their own lives." MASL selects books at different grade levels (picture books, grades 4-6, middle school, and high school), different genres (fiction and non-fiction), and different formats (traditional and graphic novels).
Throughout the school year, media specialists and librarians in schools throughout Maryland explore the nominated books with their students, and Maryland students vote to determine which books will receive the Black Eyed Susan Award each year.
The FOL Award-Winning Challenge asks you to read one of the Black Eyed Susan Award nominated books for 2022-23, presented here: https://www.maslmd.org/current-nominees
Not sure where to start? Ask the young people in your life! QACPS media specialists do an amazing job of exploring nominated books with their students, and the students have lots of strong opinions about the nominees!