From Bay Times: https://www.myeasternshoremd.com/qa/community/news/bigger-than-ever-friends-of-the-library-book-sale-to/article_e72974b5-db63-58ae-89ae-a9fbec0ad1a9.html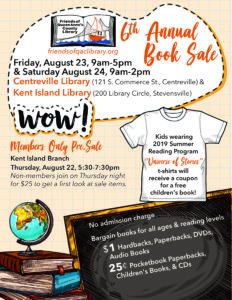 The Friends of Queen Anne's County Library will have thousands of books, DVDs, and CDs for sale at hard-to-beat prices at its sixth snnual Used Book Sale. The event has grown each year and, for the first time ever this year, the Book Sale will be a two-day event: Friday, Aug. 23, and Saturday, Aug. 24, with sales taking place at both branches of the Queen Anne's County Library.
The Friends will have thousands of used books — including novels, coffee table books, cookbooks, travel books, biographies, histories, and children's books, as well as DVDs and CDs — for sale at both the Centreville and Kent Island library branches for between 25¢ and $1 per title, with special volumes and collections also available at significant discounts.
"We have an unbelievable collection of books, movies, and music this year," Elaine O'Neal, who is running the 2019 book sale for the Friends, remarked. "There is really something for everyone."
A special treat for kids this year, kids who participated in the library's Summer Reading Program can wear their "Universe of Stories" T-shirts to the book sale and get for one free children's book from the sale.
All proceeds from the book sale will be used to support library programming and enhance equipment at both branches. So far in 2019, the Friends of the Library have funded the Summer Reading Program, that involved more than 2,400 county residents, kids and adult art programs, STEM programming, additional shelving units for the children's section of the Kent Island Branch, and new technology equipment for the Centreville Branch.