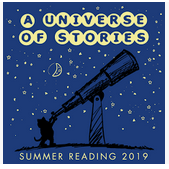 While schools are finishing up and thoughts are turning to beaches, boats, pools, and vacations, Queen Anne's County Library is getting ready for its busiest time of the year at–the Summer Reading Program!! Sign ups start on Monday, June 3rd at KI and Centreville Libraries and will continue throughout the summer (kids must be present to register), and special summer programming for adults and for kids of all ages will continue through August.
Thanks to the generosity of Friends members and its community sponsors, the county's Summer Reading Program is this year fully funded by the Friends of Queen Anne's County Library.
The first 900 children who register for the program will receive a free "Universe of Stories" t-shirt (with glow-in-the-dark stars!). This year, the Friends wanted to make sure our youngest participants in Summer Reading felt included.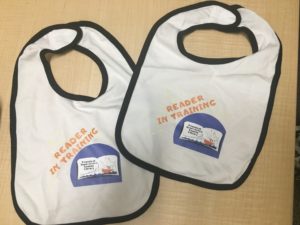 So we are very excited that the first 25 Summer Reading Program babies this year will receive a custom made "Reader-in-Training" bib from the Friends of the Library!! So register early, while supplies last!! (And then send us pictures of your little readers!!)
Full information on all the activities associated with the Kids Summer Reading Program are available here. And head into the Library to sign up for the adult program, too–not only a great chance to learn more this summer, but a chance to win lots of great prizes, including the grand prize of a hot-air balloon ride!
Special appreciation to the Friends of the Library Community Sponsors, whose generosity has made it possible for the Summer Reading Program to grow and grow and to bring amazing opportunities to our county in the summer months! Thank you…