From the Bay Times and Record Observer – August 13, 2021
Friends of the Library Announce the Return of Book Donation Days, Used Book Sale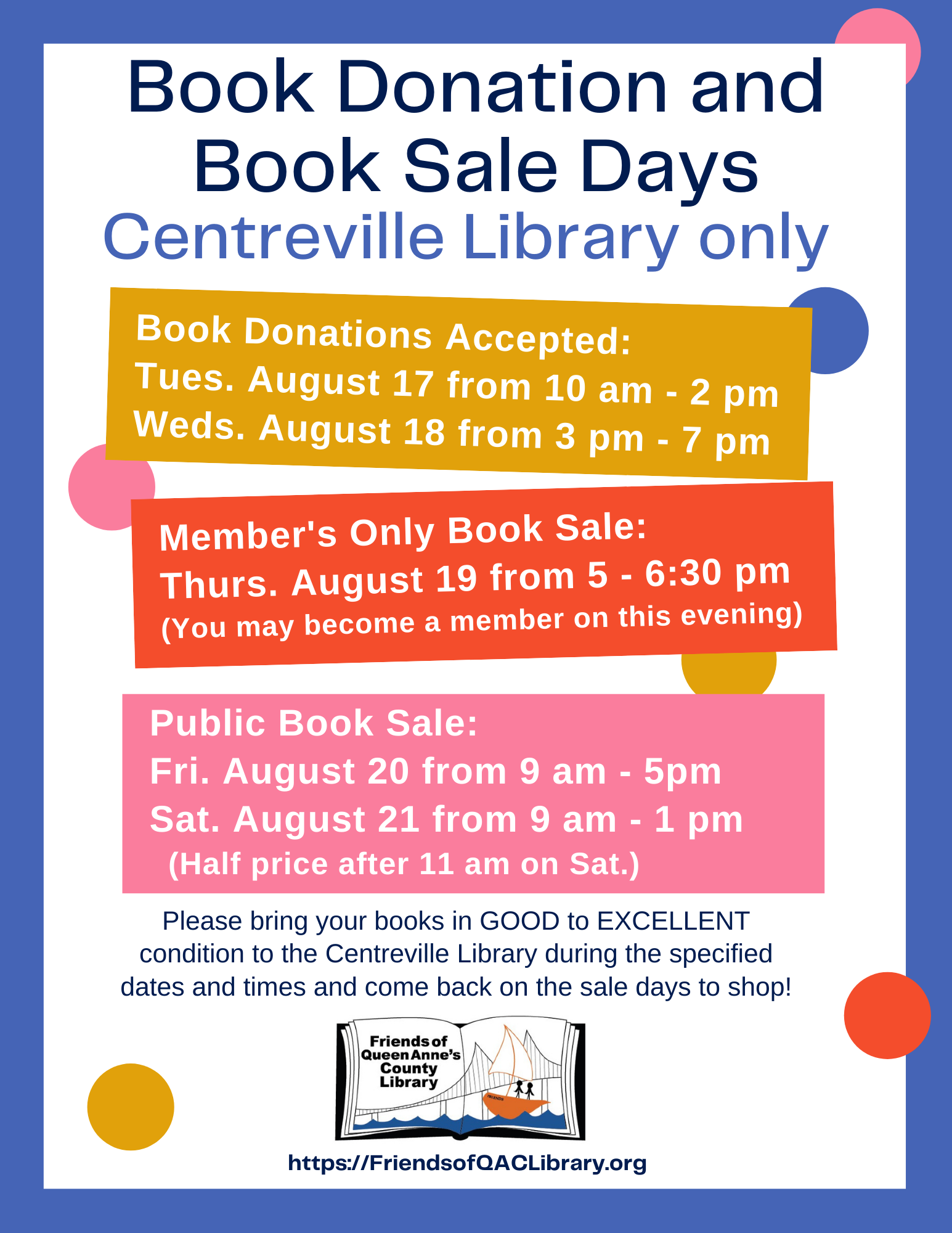 The Friends of the Queen Anne's County Library will hold a Used Book Sale at the Centreville Branch of Queen Anne's County Library on Friday, August 20, from 9am to 5pm and Saturday, August 21, from 9am to 1pm. All are invited to come shop from a large inventory of fiction and non-fiction books, children and adult books, DVDs and CDs—really something for everyone. And most items are priced at just $1!
Prior to the sale, the Friends will welcome donations of books, DVDs, and CDs, in good to excellent condition. Book donation times are limited to the following times when volunteers will be available at the Centreville Branch to receive donations: Tuesday, August 17 from 10am-2pm, and Wednesday, August 18 from 3pm-7pm. (Note that book donations cannot be made at the Kent Island Branch this year, given the ongoing construction at that facility.)
The Used Book Sale is a major source of income for the Friends and allows the Friends to provide ongoing financial support for library programming. Since 2014, the Friends have contributed more than $100,000 for programs at both library branches, including Summer Reading, Adult Arts Education, STEM-focused programming, Storytime on Wheels, and more.
"We've heard from so many community members who have been looking forward to the Friends resuming our tradition of the Book Sales, and we're excited to be able to move ahead this year," said Friends of the Library president Connie Zillig. "We're thrilled to help everyone replenish their home libraries or school bookshelves while raising needed funds for library programs for our county. And thank you to everyone in advance for their high-quality contributions to our Book Donation Days on August 17 and August 18!"
Any questions about the Donation Days or the Friends of the Library can be sent to FriendsOfQACLibrary@gmail.com.