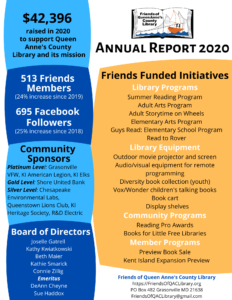 While there is much that we would all like to forget about 2020, the Friends of Queen Anne's County Library does have much to be thankful for, despite the year being such a challenge in so many ways.
The generosity of the members of the Friends was on display throughout the year and enabled the organization to provide Queen Anne's County Library with support it needed, as the library adapted to the changing circumstances of the year. The commitment of the Friends and its members reflected our community's effort to ensure that resources and opportunities were still available for our neighbors, especially during trying times.
While we look forward to new opportunities in 2021, we're proud to share with you some of the highlights from 2020, as presented in our 2020 Annual Report and in our video wrap up.