Upcoming Events
May 2019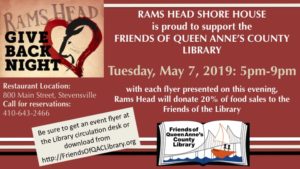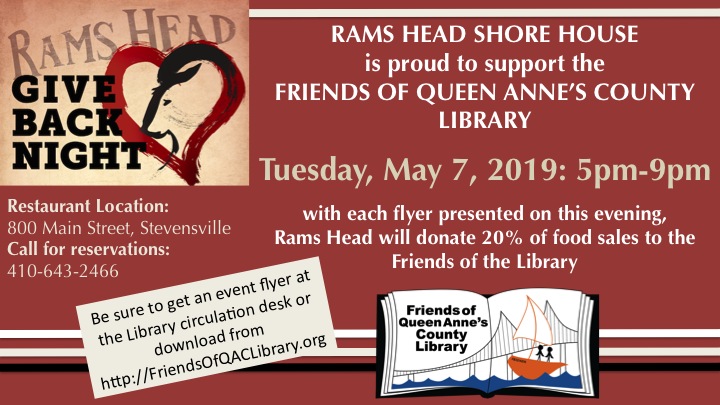 RAMS HEAD SHORE HOUSE is proud to support the FRIENDS OF QUEEN ANNE'S COUNTY LIBRARY with a generous GIVE BACK NIGHT. On Tuesday, May 7, 2019, from 5pm-9pm, Rams Head Shore House will donate 20% of its food sales to the Friends of the Library, for all tables presenting a Give Back flyer, which can be downloaded here.
Find out more »
June 2019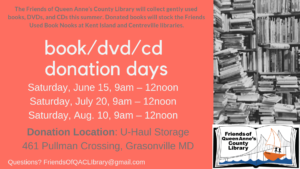 While the Friends of the Library accept donations of gently used books, CDs, and DVDs throughout the year at Kent Island and Centreville libraries, a lack of storage space limits the amount of donations we can generally manage. During the summer, though, the Friends are able to accept donations of large collections of books at an offsite storage facility. Just pull your car up to the U-Haul Storage center on one of our three Book Donation Days, and load all of your books onto a cart to be taken away!
Find out more »
August 2019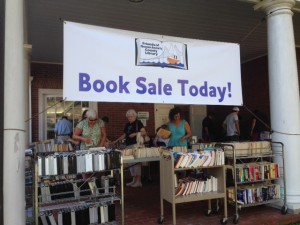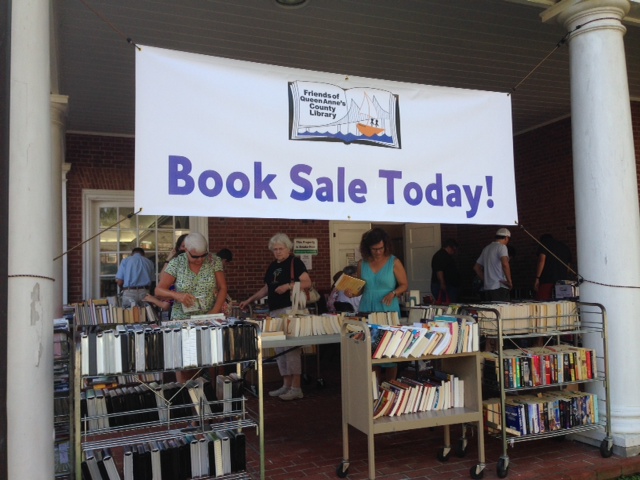 The Annual Book Sale of the Friends of Queen Anne's County Library will offer thousands of used books—including novels, coffee table books, cookbooks, travel books, biographies, histories, and children's books, as well as DVDs and CDs—for sale for as little as 25 cents and no more than $1 per title. And, for the first time, this will be a two-day event: Friday and Saturday!  Come stock up for you, your family, and friends.
Find out more »
+ Export Events