The Friends of Queen Anne's County Library hosted its second Adult Spelling Bee on Thursday, October 19. Held at Wye River Upper School in Centreville, the event brought out more than 100 "Bee watchers" to cheer on the 9 teams that competed. After five official rounds of head-to-head-to-head competition, the Queen Bees–comprised of Eleanor Strietman, Willie DiLaura, and Marge Strano, representing Symphony Village Outreach–emerged as the victor.
The teams were challenged with difficult, sometimes arcane, words throughout the night. The first word of the evening–"fardel"(meaning: a bundle) — knocked out 2 strong teams and set the tone for the tough contest ahead. But the spellers remained in good spirits, encouraged by an enthusiastic audience, and successfully navigated "milieu," "souvenir," "annihilate," "balustrade," and more tricky offerings.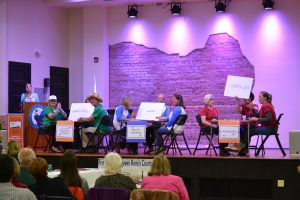 Judges County Sheriff Gary Hofmann, County Commissioner Steve Wilson, and Kent Narrows Development Corporation Executive Director Gigi Windley kept the competition fair and were diligent in reviewing each team's spellings of the words they faced.
The semi-final round featured the Queen Bees, the Cofveves (comprised of Centreville Library staff), and the Wanna Bees–last year's champions and representing the Library Board of Trustees. In the end, it was the Queen Bees success with "chronometry" that earned the team the gold medal.
This Spelling Bee is organized as part of  National Friends of the Library week, which is being celebrated this week. The Friends are appreciative that the Queen Anne's County Commissioners have issued a proclamation declaring this week to be Friends of the Library Week in the county. The Commissioners' Proclomation notes, "Whereas, Friends of Queen Anne's County Library raise money that enables our library to move from good to great — providing the resources for additional programming, much needed equipment, support for children's summer reading, and special events throughout the year…. WE, THE COUNTY COMMISSIONERS OF QUEEN ANNE'S COUNTY, do proclaim October 15-23, 2017 as Friends of Libraries Week in Queen Anne's County and encourage all citizens to join us in this worthy observance and urge everyone to join the Friends of the Library and thank them for all they do to make our library and community so much better."