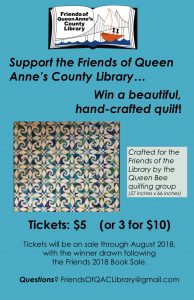 The Friends of Queen Anne's County Library will be selling raffle tickets for the chance to win a beautiful hand-made quilt. Pieced and quilted by a local Queen Anne's County quilt bee, the 57 inch x 66 inch quilt includes a mix of blue, green, and white fabrics in an intricate design that would look stunning in any home.
The Friends will be selling raffle tickets for this prize throughout the winter and spring in various locations, and there are several opportunities to purchase tickets in the coming weeks:
Saturday, December 2: Queen Anne's Arts Council's Heck with the Malls, St. Paul's Church, 301 S. Liberty St., Centreville, 10:00am-3:00pm
Wednesday, December 13: Christmas by the Bay at Annie's Paramount Steak & Seafood, 500 Kent Narrow Way N, Grasonville, 5:30pm-8:00pm
Throughout December: Centreville Library, 121 S Commerce St, Centreville
Tickets cost $5, or 3 for $10. The grand-prize winner will be selected following the Friends' Annual Book Sale in August 2018.
All proceeds from the raffle will support the Friends of the Library's ongoing work to enhance and expand programs and opportunities at the Queen Anne's County Library
See more from the Bay Times.