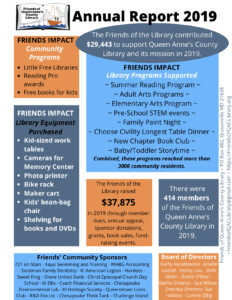 Here's your chance to catch up with everything that the Friends of Queen Anne's County Library has been up to! The Friends Annual Report is now available and can be downloaded here: https://friendsofqaclibrary.org/wp-content/uploads/2020/03/2019-annual-report.pdf
2019 was a year of milestones for the Friends of Queen Anne's County Library: The organizations has more members than ever before, raised more funds than in any other year, and was able to contribute more to Queen Anne's County Library than in any past year.  And, during 2019, the Friends' total contributions to the Library surpassed $100,000 since the Friends' launch in 2014.
Want to learn more about what the Friends have done and have planned for the future? This presentation from our March 2020 Annual Meeting provides additional details about the whole range of Friends's work. The Friends of the Library are proud that they are an important resource for the wonderful leadership and staff of the Queen Anne's County Library, and the organization welcomes new members at any time. You can join online, or ask at the Circulation Desk at either the Centreville or Kent Island branch of Queen Anne's County Library.