While the 2019-20 school year created never-before-seen challenges for teachers and students around the world, it also created opportunities for so many adults and children to shine, to demonstrate their willingness to work hard and their commitment to education even in unprecedented times. Under these conditions, the Friends of Queen Anne's County Library was thrilled to be able to work with leaders of Queen Anne's County public elementary schools to honor a small group of students, designated as Reading Pros.
Each year since 2015, the Friends of the Library have honored six county students as they complete their elementary school experience and head to middle school. The students selected as Reading Pros have distinguished themselves among their peers for significant achievement in reading and language arts, as recognized by teachers and reading specialists at their school.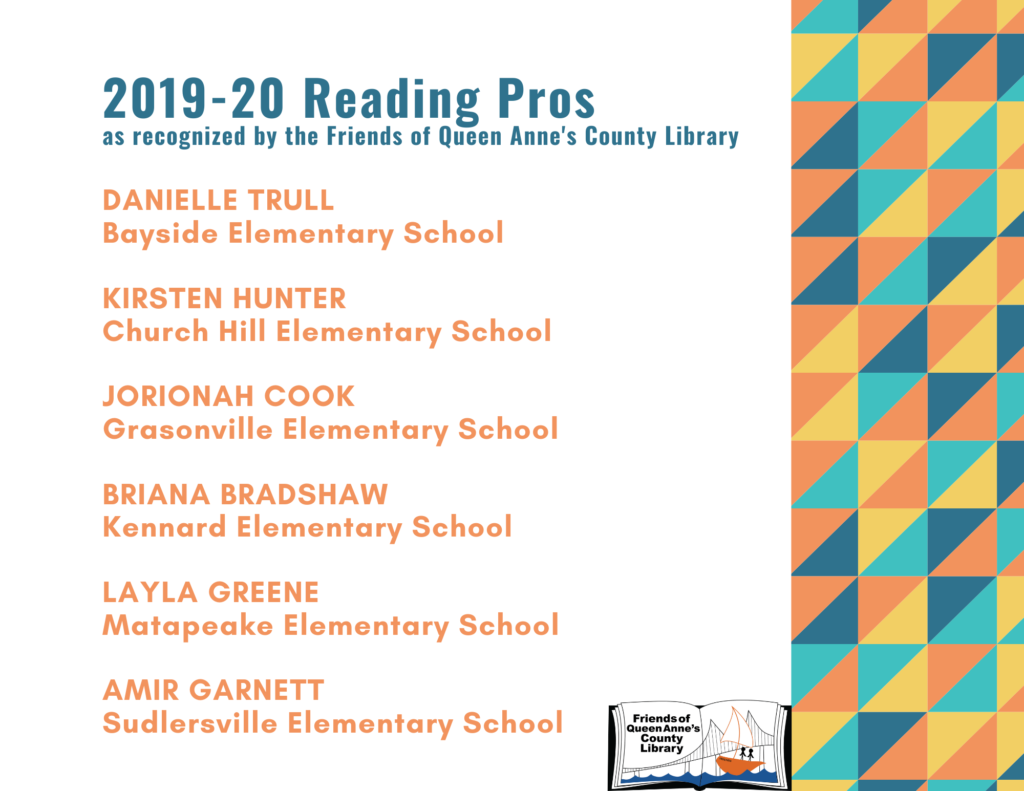 In discussing the Reading Pros, Friends of the Library president Kathie Smarick noted, "These kids recognize how crucial high-level reading skills are to their ongoing success, made a commitment to develop those skills, and put in the work to uphold that commitment, while developing a love for reading in the process. Like their teachers, we are confident that they will find great success in middle school and beyond, and we encourage them to keep on reading!"
Reading Pro designees each received a gift card to Barnes & Noble bookstore from the Friends of the Library, as well as a certificate acknowledging their achievements.  Smarick extended thanks to Friends member Carol Franks-Randall and Susan Walbert of Queen Anne's County Public Schools for their efforts to make sure that the Reading Pro award program continued this year, despite the shutdown of school buildings, and recognized that programs like the Reading Pro awards are only possible thanks to the generosity of Friends of the Library members and Friends community sponsors, including the Kent Island Elks Club, American Legion Post 278, and the Kent Island Lions Club.